Board Member Image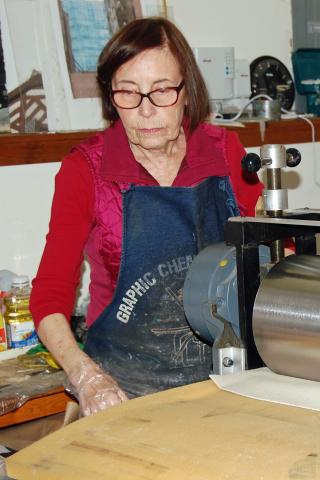 Board Member Name
Grace Bentley-Scheck
Observing urban renewal in her home town after a long absence engendered Grace Bentley-Scheck'sinterest in architecture as space humans enclose that becomes dynamic via passage through time, and this interest was reinforced by the collagraph  platemaking  process in which an image is built layer by layer much as time and exposure to the elements have built the subject.
         Born in Troy, New York, Grace Bentley-Scheck now resides in Narragansett, Rhode Island.  She was educated at Alfred University where she received a BFA and an MFA.
      Grace was a teacher in Riverhead Junior High School from 1963 to 1967.  Unable to pursue her interests in  ceramics and sculpture, she turned to making woodcuts, a medium feasible in a small apartment  The State of New  York required courses in the humanities for permanent teacher certification. A Romantic Prose and Poetry course at Southampton College focused on imagery and influenced an increased interest in printmaking. 
         In 1967, Grace married and moved upstate.  She taught in North Colonie Central Schools until 1972 When her husband received his Masters degree and found employment in Oswego, New York.  Grace became a full-time printmaker, and  since then, her work has been included in many competitive and invitational exhibitions.
  Grace has received a BEST IN SHOW- PRINTMAKING from the 24th Bradley National Print and Drawing Exhibition and juror's awards from the National Printmaking Exhibition at Trenton State College, Trenton, New Jersey; the North Dakota Print and Drawing Annual; and the 11th National Los Angeles Printmaking Society Exhibition.
In 2019,, she received a juror's award from the Society of American Graphic Artists 85th Members show in Newark, New Jersey, and had two prints accepted in The Bradley International Print and Drawing Exhibition. In 2016 and 2014,  Her prints were shown in two-person shows at the Old Print Shop, NY.
           Her work has also been exhibited in several European countries and Japan, most notably Print Triennial-Cracow, Poland, in 1994, and in its satellite exhibitions in Germany and Austria and International Print Triennial Cracow 2000 – Bridge to the Future which was shown in Cracow, Poland and Nurnberg, Germany.  Her prints have been collected by the Newport Art Museum in Rhode Island, the Knoxville Museum of Art, and the Portland (Oregon) Art Museum as well as many other public and private collections.
         Grace Bentley-Scheck was featured in American Artist in June, 1987 and August, 1999 in an article titled "Urban Landscapes in Transition".  Her work has been reviewed by Journal of the Print World,  The Wichita (Kansas ) Eagle,  The Boston Globe, The Syracuse Herald American, and The Providence Journal.  She is represented in Secrets of Buying Art: Original Prints and Reproductions by Mary Ann Wenniger and Mace Wenniger, and in " The Artist's Illustrated Encyclopedia" by Phil Metzger.  Her work can be seen online at